Industrial Instruments

Gaming Meters or Coin Meters are totalizing counters specifically designed for the gaming and vending industry. Many vending and gaming machines use several of these meters to count coins.These coin counters can be used in any vending or gaming type machine.

Totalizing counters are used to count objects or events. They can be simple counters which count each time a voltage pulse is applied to the input or they can incorporate a scale factor which will allow the display to be in engineering units. Applications include: Vending/Gaming Machines, Parts Counting, Flow Totalizing, OEM Machinery.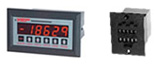 A Preset Counter performs the same operations as a Totalizing Counter with the addition of output control. The user can set a preset (setpoint) value at which point an output on the unit will activate. The output is usually a relay or transistor output. Many Preset Counters also offer a Rate display (Rate,eter/Totalizers), input scaling and other programmable settings.

Elapsed Timers are used to measure the amount of time that an event took place. Electromechanical timers derive the time from the AC line frequency for AC inputs and use an asynchronouse motor for DC inputs. Most Electronic timers us a crystal oscillator to derive the time. Applications include recording the operating time of machinery for maintenance, testing, leasing and warranty programs.

Preset Timers are used to measure the amount of time that an event took place but also add control functions.The control output can be used as an alarm when an event has lasted a predetermined time value. The output can also be used to control the amount of time that an event will last.

Rate Indicators are used to display and monitor the speed of various proceses. They are available with many different display sizes and for digital and analog inputs. Many are alsoavailable with alarm or control outputs and other programmable settings.

DPMs are used to display and monitor various process information such as Rate, Temperature, Level, Percentage, etc. DPM's generally accept analog inputs from sensors. These inputsinclude: 4-20mA, 0-10V, RTD and Thermocouple signals. DPMs can be provided with a display or they may have control features and other programmable settings.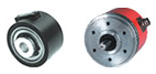 Incremental Encoders are used in applications where mechanical motion must be processed into digital information. KEP encoders offer the best combination of accuracy, resolution, reliability, ruggedness, ease of use and value. Our encoders can be used in conjunction with a KEP counter,ratemeter or position monitor for a complete solution. Applications include: speed, rate, velocity, distance, position, or direction.

KEP offers several different types of sensors including: Magnet actuated switches available in many different styles, Inductive proximity sensors, NPN or PNP outputs and Photo-Electric Sensors, many styles available.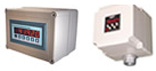 We offer a wide variety of enclosures for our electronic and electromechanical products. Choose from a large selection of environmental protection specifications and mounting styles.